Sandalwood, the smoothest of all of the wood notes and reminiscent of freshly chopped wood meets sweet citrus hued bergamot for a healthy, refreshing and healing combination. Safe and free from toxins, this aluminum-free deodorant safely neutralizes underarm odour by using botanicals and scientifically validated ingredients of the highest quality.
Strength: Extra Strength
Our strongest formula. This base has our highest concentration of baking soda for days when your body and mind are asked to step up to life's demands.
Features:
One stick lasts on average 3-6 months with daily use

Over 90% Organic Ingredients

Nourishes, moisturizes, and repairs the underarm

Free-From Carcinogens

Free-From Aluminum

Free-From Cruelty

800+ Ingredients banned

Benefits:
Easy and smooth application

No Residue

Glides on clear

Doesn't darken underarms

Doesn't stain shirts

A little goes a long way. 2 swipes is all it takes. In the beginning reapply as necessary. 
60 g
Camellia Oleifera seed oil*
Tapioca Starch*
Maranta Arundinacea Root powder*
Beeswax*
Theobroma Cacao (Cocoa) Seed Butter*
Cocos Nucifera (Coconut) Oil*
Sodium Bicarbonate (Baking Soda)
Vegetable Glycerin*
Tocopherol (Vitamin E)
Copernicia Cerifera (Carnauba) Wax*
Rosmarinus Officinalis (Rosemary) Leaf Extract (Rosemary CO2 Extract)*
Cedrus Atlantica (Cedarwood Essential Oil)*
Pogostemon Cablin (Patchouli Essential Oil)*
Santalum Spicatum (Sandalwood Essential Oil)*
Citrus Aurantium Bergamia (Bergamot Essential Oil)*
Melaleuca Alternifolia (Tea Tree) Leaf Oil*
Leptospermum Scoparium Branch/Leaf Oil (Australian Manuka Oil)
*Organic
Be mindful not to over apply (2 swipes will do)!
Reapply as necessary
Customer Reviews
Write a Review
Ask a Question
Filter Reviews:
deodorant
Nala
scent
smell
packaging
skin
Sandalwood
something
brands
chemicals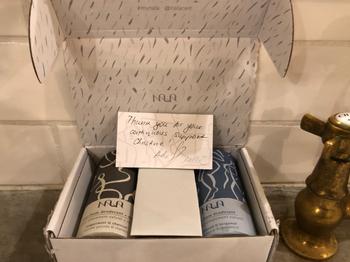 08/30/2020
I recommend this product
The best!!!
Hands down the best natural deodorant out there! Goes on easy, no need to reapply often like others out there. Vegan, cruelty free, natural ingredients, makes it a quality product. We have been purchasing monthly. To top it all off, each box comes with a handwritten note. Something that doesn't happen often these days, so it's nice to see a personal touch to their products. Just a win, win all the way around!
Christine L.
United States
01/09/2021
I recommend this product
Favourite Natural Deodorant!
I have tried a number of natural deodorants and Nala is the first one I've been FULLY satisfied with! This works fantastic on my sensitive skin and after a couple of weeks using the deodorant I was confident that I could last through a very busy day without needing to reapply! I've now been using it exclusively for over 6 months and LOVE this deodorant. A bonus is that my order always arrives quickly!
Taylor
Canada
01/08/2021
I recommend this product
Loves it!
My husband loves his Nala!
Kathleen R.
Canada
01/07/2021
Powerful but subtle scent
Scent is fairly subtle and more woodsy than citrusy. This is the strongest product Ive used from Nala - would recommend for high coverage days. Scent is neutral - great for women and men.
Emily R.
Canada
12/28/2020
Sandalwood and Bergamont
A little pricey but i love it!!
Tina E.
Canada
12/24/2020
The best
I have tried many organic deodorants, and this is by far THE BEST. Not only does it smell wonderful, it actually lasts all day...which none of the others can. I highly recommend this product.
Bach, C.
United States
12/23/2020
Don't like the smell
I did take a chance as I never smelled the products and ordered 2 different ones by reviews. I ended up loving the lemon géranium one and wear it everyday! Works for real through crosscountry skiing and all! It smells fresh, lemony and clean. I find the sandalwood smells like an essential oils boutique. A bit masculine too.I recommend Nala but I recommend another perfume if you wish for something more subtle and close to regular deodorants.
Maude-Sarah M.
Canada
12/19/2020
Great Product - Excessive Packaging!
The product is great - love the scent, it works well, and it doesn't irritate my skin. I did find the cost of shipping surprising (i.e. a bit high) and when the product arrived, I could see why! It was beautifully packaged and clearly a lot of care had gone into the design of the box and the branding, but it was just too much! It seemed ... wasteful - both from an environmental sense, and in the sense that the consumer picks up those costs as well. If you could reduce your packaging and the shipping costs I'd give you five stars!
Sarah G.
Canada
Hi Sarah, thanks for your review and feedback. We do offer free shipping over $50 with most of the shipping cost made up of the weight of the deodorant + distance shipped. We're continually exploring sustainable packaging options and will take your feedback in mind. Thanks, Nala Team
12/17/2020
Returning Fan
I have been using Nala for a few years. I'm obsessed with the Sandalwood and Bergamot sent. I am a customer for life!
Delina S.
Canada
12/12/2020
Nice smell
Got this for my husband who did really like this but it lasted him only a few weeks. Performed better with respect to auto control than the other products. Nice smell and good customer service when we wrote in.
anna s.
Canada